we4DRR General Assembly 2022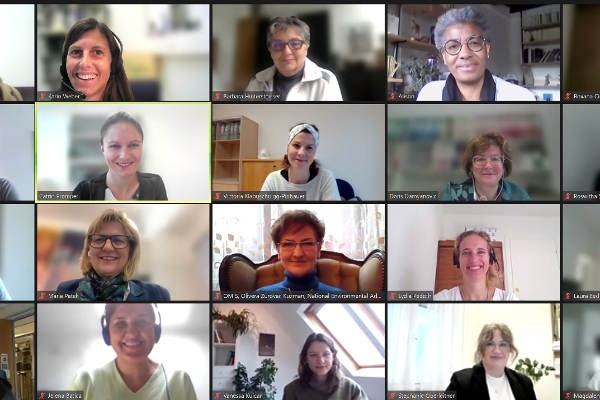 The we4DRR General Assembly 2022 was held online on September 27th. It included a keynote by Barbara Juen, a workshop by Sabine Pelzmann, poster presentations and a networking area.
Barbara Juen - Gender-specific aspects in crisis management
Barbara Juen is a Clinical Psychologist at the University of Innsbruck. She presented differentiated aspects of gender in disasters, providing insights on seminal international research as well as recent findings and learnings of the gendered impact during the COVID-19 pandemic. Results show that workload and economic insecurity increased for women, who are more likely to suffer from post-traumatic stress. Barbara Juen concluded that progress regarding research knowledge is moving slowly. Yet, disasters open opportunities for change and the active involvement of women in all phases of disasters need to be pursued. In this regard, the local level is a focal point, fostering community-based groups in the educational and healthcare sector and the need to strengthen families as a unit.
GA 2022
Catrin Promper gave insights on the current membership structure: 135 members are part of the network, mainly coming from Austria, Switzerland, Germany, Italy, Republic of Serbia. The network's activities over the last year focused on a webinar to meet the needs and interests of members, as evaluated during the last General Assembly in 2021.
The first webinar series of "we4DRR: members in focus" shed a light on three of our members, their institutions, projects and also their career paths. The aim was to give insights into activities of different institutions and current projects as a teaser for cooperation among members of we4DRR, showcasing role models and outlining different career paths.
Sabine Pelzman: Resilience – and its importance for female careers
Sabine Pelzman is a consultant for integrated and customised development of organisations, managers and teams. She gave insights about social corsets and self-limiting beliefs among women, that make it difficult for women to get into leadership. Sabine Pelzman presented the concept of "5 pillars of identity", applied in integrative therapy by H. Petzold, concluding that successful leaders constantly have to invent themselves and know the reason behind their work. Research confirms that experience and reflection help us to transcend boundaries. Therefore, Sabine Pelzmann guided the members through group work that initiated exchange among the participants on a personal level to apply a reflective approach to a special event where they transcended their boundaries.
Sabine Pelzmann concluded that reflecting the own biography and personal behaviour helps to gain more competence in other risky situations. Rather than using the term "resilience" (bouncing back to the same after harmful situations), she is an advocate of using the term "antifragility". Antifragility considers the possibility to learn and grow from shocks and get better after. It enables us to deal with the unknown to tackle something without understanding it.
Weiterführende Informationen